Today is the last day to enter the competition. It's quick to enter, easy to enter and no stings attached. If you will, you will receive 1 year free access to the B Inspired resources and Training!
v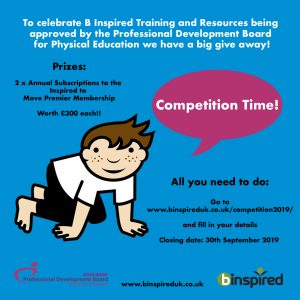 B Inspired has now achieve Approved status by afPE- Professional Development Board for PE and we want to celebrate the fact.
You could win a subscription to the Inspired to Move Premier Membership for a whole year (www.binspireduk.co.uk/i2m/)
All you need to do is go to:
www.https://binspireduk.co.uk/competition2019/ and enter.
Closing date: 30th September 2019
Please share with any teachers, TAs, childminders and early years practitioners you think may find this useful.
Good luck!